Cool New Space, Cool New Tech

Jim B., Engineering Manager

Dec 6, 2013
On Wednesday, November 20, Yelp opened up the doors of our new space and invited tech industry friends to come by and see what we're up to. Scott Clark and John B., two of our engineers, gave presentations about current technology challenges we're working on here at Yelp. Search Engineering Manager Chris T. gives us a play-by-play below!
---
The crowd started arriving at our new building in San Francisco even before the official start time of 6pm. I ended up chatting with some folks in front of the building and did not get up to the party on the 8th floor until around 6:30. By then it was packed! The bar was serving up drinks as fast as they could and hors d'oeuvres were brought to attendees by servers walking through the crowd.
Normally, our coffee-bar. Tonight, our bar-bar. Only empty at this moment because tech talks were going on.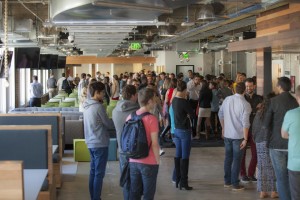 Another shot of the new space, a bit earlier in the day.
After enjoying some food, drinks and conversation, our tech talks started. First up was Scott, who gave a great talk about how to apply techniques from optimal learning - such as bandit algorithms and bayesian global optimization - to automatically improve the performance of our experiment framework. These techniques are already being applied in production here at Yelp.
Next up was John, who described how we've integrated ElasticSearch at Yelp. Prior to working with ElasticSearch, we had built out search using custom services. John's talk gives a great overview of some of the reasons we chose ES for our future development, as well as general tips for folks building out search on their site.
Video and slides of the tech talks:
"Optimal Learning for Fun and Profit" by Scott Clark (Presented at The Yelp Engineering Open House 11/20/13) from Yelp Engineering
"Using ElasticSearch to Scale Near Real-Time Search" by John Billings (Presented at The Yelp Engineering Open House 11/20/13) from Yelp Engineering After the tech talks concluded, everyone mingled on our 8th Floor. We marked off various corners with topical discussion, such as Data Mining, Backend, Ops and so on. A lot of people ran into folks they crossed paths with previously and were happy to both reminisce and discuss the new things they're working on.
Keep following this blog for more updates about the exciting meetups and events we host, like the upcoming Intern Networking event, Yelp NITE, Python meetups and more.