What it's Like To Be a First-Time Speaker at Grace Hopper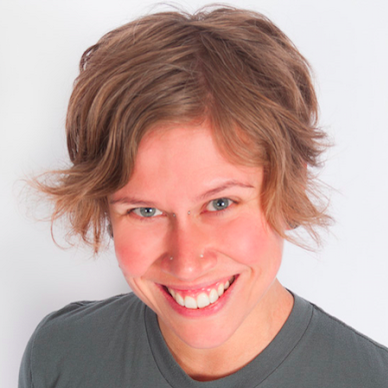 Jenni S., Engineering Manager

Jan 19, 2017
Alexa H. has been a Product Designer at Yelp for two years, having previously graduated from California College of the Arts studying Graphic Design. This year at Grace Hopper, she co-presented "Ask questions, lots of questions: A workshop for practicing building beautiful presentations in Google Slides and giving design critique." It was her first public speaking experience, and after watching her fantastic performance, I wanted to know more!
Jenni: So Alexa, I'll just dive right in: how did you feel about the prospect of public speaking before you submitted this proposal? Had you considered it in the past?
Alexa: Well, I actually felt fine about it at first. When I submitted the proposal with my partner, I had a very different expectation around what the event was going to be. We had submitted a proposal for a workshop which, in my mind, would be a small, intimate event. It wasn't until much later, once our proposal was accepted, that I found out the audience could consist of hundreds of people. Had I known how many people were going to be there, I probably wouldn't have gone through with it. I had considered getting into public speaking in the past… but not in front of hundreds of people!
–
Jenni: How did you go about choosing your topic? What experiences have you had that made it clear that there was interest?
Alexa: The topic was presented to me by my partner and it was a topic I knew I could get behind. Since attending design school, critique has become an extremely valuable part of my design process. We had design critiques just about every class period in one way or another and that process directly translates to your work professionally. The design community is already pretty well versed with this process, but there are other folks I work with, from engineering to product management to marketing and beyond, that I know have been wanting to learn more about this practice. Grace Hopper seemed like the right audience.
–
Jenni: What was your overall process for developing your slides and presentation, and how did you practice?
Alexa: My process was to first gather all of the lessons I wanted to teach before starting to design the presentation. Once I did start to put the slides together, I began meeting with a handful of my colleagues to do dry runs and gather feedback. After every dry run I would go back and tweak parts of the presentation that needed refinement. One of the most memorable pieces of feedback I got was that I hadn't told much of my story and that information could help my audience trust my expertise in the subject.
At work, I gave about two small group practice presentations as well as one larger group one; but I did most of my practicing on my own at home. I practiced a lot. I knew that if I didn't memorize the content that I would be worried and potentially freeze in front of such a large group. I knew I was knowledgeable about the content, so I wasn't worried about that; but rather, I really wanted people to take something special away from the talk and I think that kind of message really needs to be thoughtful.
–
Jenni: I was particularly impressed at how you handled the AV failures. You went for 5 minutes without your slides, and the transition back to slides was very smooth!
Alexa: Thanks Jenni! Yeah, it was pretty wild. Even if you think you've prepared for everything to go perfectly well, something will still go wrong. The reason I was able to transition back out of that so smoothly was because of how much I practiced.
–
Jenni: I see a lot of similarities between design critique and code reviews. What do you think non-designers in the software side of the house can learn from your slides?
Alexa: Well, my slides are all about building stronger communication and that's endlessly relevant, no matter what community you're talking to. Just like most of the lessons I learned from design school, I think the design critique process goes way beyond how to create good work. Being able to have an objective conversation around what is working and not working is going to benefit you and your company, but being able to objectively critique your solutions to any problem you may face in life – now that will help you in all aspects of work and play.
Jenni: I am really looking forward to what you have to teach us next. What will you do differently next time?
Alexa: Next time I will probably involve some of my close friends in the process earlier on. I am really grateful to have had the support and feedback from them. I am also going to make sure that I check the technology as soon as I have access to it since we had problems with our slides working once we started the presentation. We had time before we presented where we could have double checked to see it was working.
–
Jenni: And are you already thinking of the next session you'd like to present, at GHC or otherwise?
Alexa: I have actually already given this presentation a second time for a class of engineering students at Colgate University! Besides that, I haven't thought about it quite yet but would like to keep engaging.
–
Jenni: Final thought: what advice and/or resources do you have for someone reading this post, who's thinking of diving into public speaking?
Alexa: Gather a group of people you trust and make sure to involve them in your process. My presentation would not have been the same if I tried to do it on my own - it was a group effort. Other advice: use lots of photos, tell your story, practice, practice, practice and make it clear why people should care about what you're talking about.
And if you're looking to get into public speaking and found any of this information helpful, you're always welcome to reach out to me to continue the conversation: alexah@yelp.com.
–
Resources
Ask Questions Lots of Questions: Giving Good Design Critique
Original slides from Alexa H., Product Designer at Yelp
Four Things Working at Facebook Has Taught Me About Design Critique
Tanner Christensen, Product Designer at Facebook
How to give and receive a good design critique
AIGA.org
Stop dreading feedback conversations
SYPartners
How to do a Product Critique
Julie Zhuo, VP of Product Design at Facebook
Become a Product Designer at Yelp
Design products that get used by millions of people each day
View Job