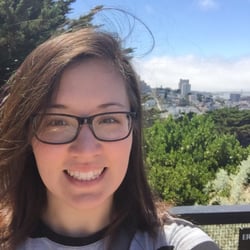 Alexandra Phillips, Engineering Manager

Nov 7, 2018
It's time for our fall Hackathon! At Yelp, Hackathons are two-day events that provide unstructured time for our engineering and product teams to work on whatever may scratch their creative itch! Hackathon truly embodies our company values of "Playing Well with Others" and "Being Unboring," as it invites us to participate in so many different ways.
Engineers have the liberty to work on projects related to or completely outside the box of the Yelp product. We've seen many types of projects over the years from music videos and new photo classification algorithms to baking workshops, custom video games, and so much more! It's a great outlet for collaboration and innovation that really helps foster teamwork and creativity.
For the past several weeks, we've been hard at work preparing for the final Hackathon of the year: number 27! This year will be our ninth year running, with each year traditionally hosting three hackathons. This pace enables the engineering team to have reliable and regular outlets for their creativity and to take advantage of several opportunities throughout their career to work on a variety of different project types.
We're particularly focused on the celebration of building something together, and in an effort to recognize that, have come up with six different awards: Useful, Funny, Cool, Hardcore, Unhack, and Spotlight. The Spotlight award in particular rotates its theme every Hackathon; Hackathon 27 we'll be spotlighting "Inclusion" which is an important facet of Yelp culture. We're hoping to this inspires a broad range of projects and activities bringing awareness to how important inclusion is in workplace culture.
Hackathon planning is a collaboration between our awesome Engineering, Engineering Event Planning, and Engineering Recruiting teams. There's a lot of orchestration involved in selecting the theme, arranging the catering, helping engineers find or evangelize their ideal projects, designing the swag, and of course, planning the Ridiculousness!
In the true spirit of being unboring, Ridiculousness is the center of fun and games during Hackathon. Need a break from hacking? Come on by to paint, build, draw, or play interactive games with your fellow engineers! Team connectedness is something that transcends both our SF and Hamburg Engineering teams and is celebrated by sharing a Hackathon kickoff toast and awards ceremony.
I've had the amazing opportunity of seeing so many unique, creative projects that have been the product of hard work and collaboration of our engineering and product teams. I'd like to share just a few with you!
One of my favorite projects coming out of Hackathon is "AWE the Book." AWE is our Awesome Women in Engineering employee group at Yelp, who champions and facilitates initiatives to improve inclusion and diversity within Yelp Engineering. "AWE the Book" is a collection of interviews from over 60 women in Engineering and Product, with each page speaking to their childhood aspirations, what they love about Yelp, and their pathway into the tech industry. It was an amazing demonstration of people coming together to work on a project they're passionate about. Read more about it in this blog post!
One useful Hackathon project that's now embedded into Yelp culture is Yelp Love, an app that allows any employee to send kudos to one or several colleagues at a time. Yelp Love has become the defacto way to say "thank you" to a coworker that really went above and beyond, and it helps us all live by our "play well with others" value.
One of the most hardcore projects was the "Neon Incident Pager project." This was a physical neon light and LED display that integrated with our incident paging system to create a bright and eye-catching display when an incident is triggered! This project took on a creative, fun, and yet hardcore challenge to produce something really remarkable!
I grow more and more excited as we head into Hackathon 27 as I'm reminded of some of my favorite aspects of Hackathon at Yelp: meeting new people, learning new things, and building! Hack on!
Engineering at Yelp
Want to experience Hackathons for yourself? Join us at Yelp!
View Job