Hosting Our First Awesome Women in Engineering Summit in SF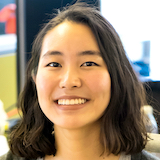 Dorothy Jung, Software Engineer

Oct 4, 2019
Last month, we held our first Awesome Women in Engineering (AWE) Summit at our headquarters in San Francisco. AWE's mission is to build a strong community for women and allies in our engineering and product departments by facilitating professional career-building activities, leadership, and mentorship opportunities. As a resource group, we provide support and organize activities targeted towards professional growth for women, helping them to maximize their potential at Yelp and beyond.
The summit was an internal, half-day event for women and allies in engineering and product at Yelp. We had previously hosted a summit for our EU offices, but this was our first time organizing the event stateside. During the event, we shared our experiences with one another and learned about the amazing work done at Yelp by women through a packed agenda of technical and career-based talks, workshops, and a round table discussion.
Overview of the Day and Session Highlights
We kicked off the summit with lunch and an introduction from Rachel Z., a group engineering manager and leading member of AWE at Yelp.
We followed with a series of sessions in parallel tracks, which ran the gamut from lightning talks to hour-long workshops. Some sessions were highly technical, including a lightning talk on PaaSTA, our open-source, distributed platform-as-a-service, by Qui N., and a workshop on machine learning and data mining using the Yelp dataset by Xun T.
Other sessions were focused on career growth, diversity, and inclusion. For example, Maria C., one of Yelp's group technical leads, detailed her career path as an individual contributor, and Jenni S. led a workshop targeted toward allies that focused on real-world scenarios in which an ally could take action to promote a more inclusive workplace environment.
The round table discussion, facilitated by Annie W., presented opportunities for women to have open, honest discussions about their experiences and any challenges they were facing.
We closed out the day with refreshments and a few parting words from our SVP of Engineering, Sam E.
In Our Own Words
"I was proud to see my coworkers–women and men–coming together to discuss and learn about these important topics. Only with everyone on board can we make a change towards a more equal industry."
"My favorite part was the round table discussion! I felt at ease to share the difficulties I'd faced. It was very enriching to share career and personal development tips with others."
"I feel inspired to use the takeaways from the [technical leadership talk] as a springboard for leading my own projects. It was clear how the takeaways emerged from practical situations."
"As an ally, I'm glad to be able to participate in the event, it was great! My favorite part was the Ally Skills Workshop discussions and hearing different viewpoints."
Conclusion
Holding this event allowed women across different technical departments at Yelp to come together, feel a stronger sense of belonging, and walk away feeling empowered and inspired. We plan to hold this event again in the future, and are proud of the progress that has grown AWE from a small social group when it was founded in 2013, to a thriving organization with hundreds of members today. Organizing this event with the brilliant, motivated women in engineering and product has been a highlight of my time here at Yelp.
This event further demonstrated Yelp's ongoing commitment to diversity and inclusion, as well as the importance for women to have opportunities to connect with others in the workplace to learn and grow. For more information about how Yelp supports women in tech, check out our website!
Interested in joining the awesome women in engineering and product at Yelp?
We're hiring! Check out our Careers page for more open positions.
View Job